dCourseWeb is more than a traditional LMS
The Online Program Management System for Faith Based Institutions.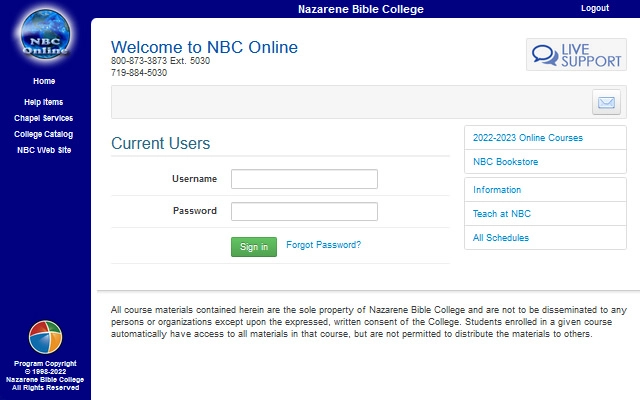 dCourseWeb is an Internet-based application designed by Nazarene Bible College (NBC) to manage online education programs. It includes a course or learning management system, along with an advising utility for advising and scheduling students. The system maintains historical information on instructors, students, and courses for use by administrators, instructors, and advisors. The application is both an administrative tool and an instructional tool.
NBC developed dCourseWeb and offers access to other schools. Currently, 8 other colleges, universities and seminaries are using dCourseWeb for online classes (including Caribbean Nazarene College and South Pacific Nazarene Theological College).
Administrative Tool
As an administrative tool, dCourseWeb provides extensive scheduling options, faculty management, and student management and communication.
Advising Utility aids in maintaining student information, i.e. schedules and registration status
Built-in intervention processes monitor student attendance and grades, providing advisors and instructors with daily and weekly information to better serve the students
Secure discussion or classroom environment with a web-access option that allows for online or offline work
Extensive Help Items provide easy to understand answers to common questions
Student Center/Chapel area for students and instructors to share prayer requests and services
All information is entered into data tables and then accessed by various applications so that it is easy to update information. Extensive program options enable the system to be customized to look and operate in a way that best fits the needs of the institution. Multiple reports are available to provide detailed information for administrative and assessment purposes.
The program is housed on servers at NBC, so all hardware and software are maintained and managed by NBC. With proper authentication, schools can access the program from any computer with Internet access.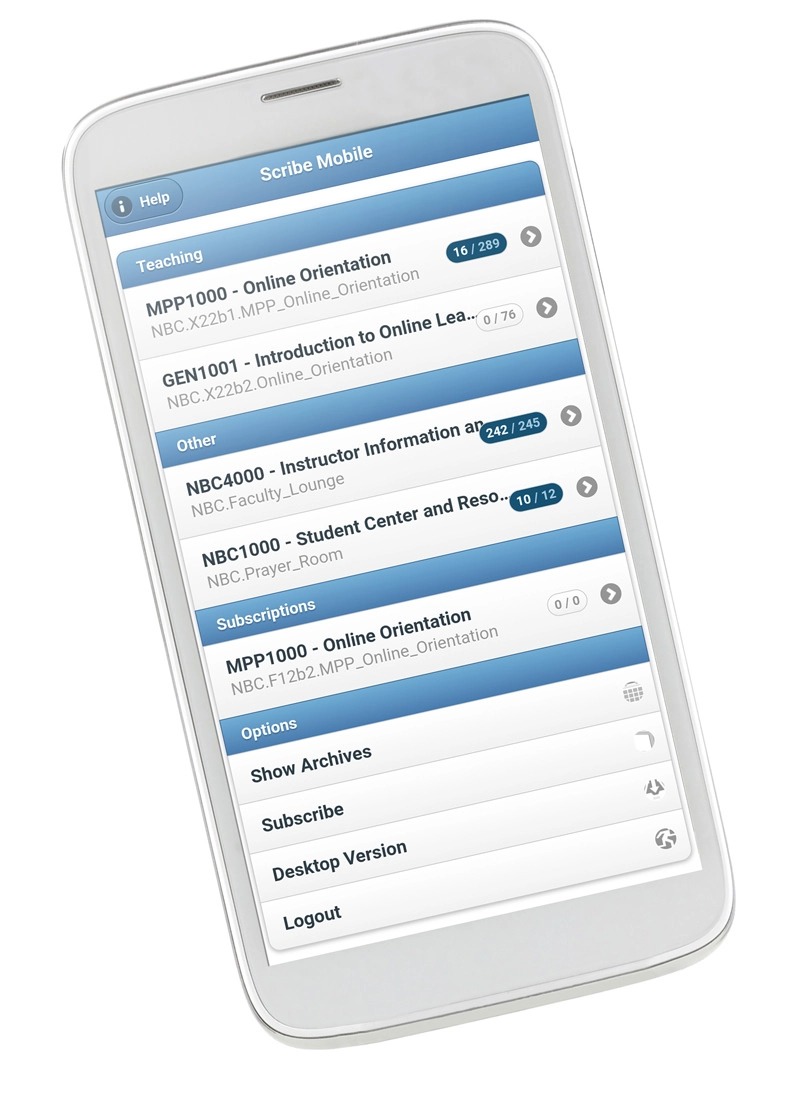 Instructional Tool
As an instructional tool, the system is similar to that used by the University of Phoenix. It includes two components: 1) a web-based area for content and resources, and 2) a "store and retrieve" program for class discussion. Students can access the class content with any browser (Edge, Firefox, Chrome, etc.) and the class discussion using Scribe the integrated Web discussion tool or Scribe Mobile an app for mobile devices.
All forms of media can be built into the program, providing unlimited ability to include materials
Web-based course content generated using basic XHTML allows added creativity in course design
Course content sharing gives Administrators and Instructors a head start in building new courses
Quiz/exam generating program allows professors to design tests in a variety of formats
Customizable grade book for instructors - unique to each class
Areas for instructor information, class roster, and syllabus
Secure instant messaging feature that is built into the program to enable synchronous conversation with individuals or groups
The course content is stored in data fields and can be used for a single class or shared by multiple classes during the same session. Once course content is created, it is available for use again simply by scheduling the class with a new start date and instructor. When it is time for the class to begin, the system builds the class from the data files and customizes it to fit the instructor and date. The same content can be used by multiple instructors at the same time, with each class built to show the proper instructor.
Through special licensing, the Learning Center includes access to Turn It In and Refworks.